Emily Flederkatze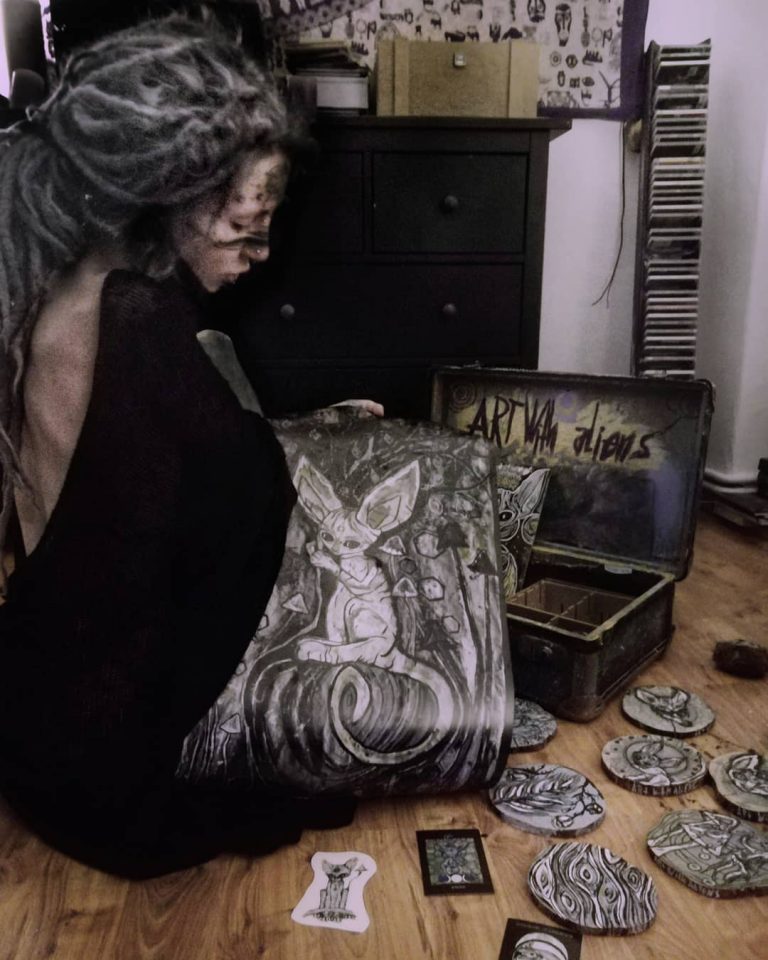 my universe is here to be seen in my art . there is my heart .
my alien-boy eike as well as tara and aruna-cat are always a part !.
i was sure about the existence of more than just one moon when i was as an alien-kid and today i am still really fascinated about da moon in all its phases and about cats with all their faces .
nature makes us all life in da moment and finding harmony in breath and thoughts . so, the connection to the deep forest is important for a flowerful mind and my alien-art .
my name is Emily, im home on this planet for 25 years already and ive started painting in a deep and dark forest searching for some light .
some years ago ive got a white rat-friend and who spent some childhood-time in berlin, as well as alien-me .
i visited a 'technical-college in design' in frankfurt am main and did my graduation .
after that i started a 'voluntary caltural year' that i spent at a little theatre for kids .
moving to hanover and doing a 'training as a assistent for fashion and design' was the next step of my journey .
after graduating ive studied 'fashiondesign' for two years in hanover . 
'naaw, in case of doupt, u can sell ur paintings, emily', friendly fellow students told me, when they realized that i wasn't totally alien-me in doing this fashion-thing cause free traditional-art is my love .
i did some study-experiences in experimental-design for a year and created my littl alien-art universe at the same time .
meanwhile i am a nude and portrait model for drawing lessons, art-schools and for artists wanting to got some alien vibes in their own work .
each of us contains the entire universe and we are all moons in all our phases reflecting the light . love u all, emily